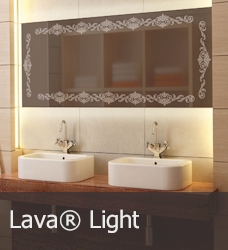 Lava® Light infrared heating!
Your mirror with led lights as heating panel
'Lava®' Light glass heating panels bring warmth and a feeling of well being to your bathroom. Your mirror is mirror and heating panel in one!
The panels have LED-lights that if switched on shows the design in the mirror. These panels can be deliverd with remote controled thermostat for more comfort and practicality.
Available in 3 measurements, with or without receiver for a remote controled thermostat. We strongly advise the use of a thermostat for the panels, for optimal regulation of the room temperature. Non-wireless thermostats are available for the panels without receiver.
For the moment not available!
---
---
---

Infrared panel heater mirror 200 watt
200 Watt / 230 Volt
HxW = ...
---
Infrared Mirror heater - infrared panel
Prices mentioned are including VAT, without shipping.
---
---