Glass Vases & Containers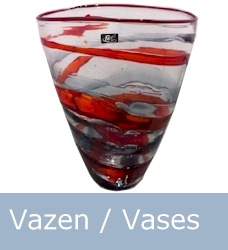 Glass vases and vessels
Glass is a fascinating clear and a special decorative element. A glass vase can be used for flowers and as a decoration object.
Depending on the shape and colors, a single vase can attract you attention.
Ever thought of the idea to fill the vase with sand, marbels or even christmas deco? Try it, your vase can be the center piece!
Glass Vases - Glass accessories - home decor
Prices mentioned are including VAT, without shipping.